upcoming

ILYA LERNER

Philadelphia, City I love
Ilya Lerner derives the theme for her latest body of work from experience as a life long city dweller. Though living in a small town for the last 15 years, a look through her past takes us on a journey through Moscow, New York, Boston and Houston. In Philadelphia, City I Love, Ilya depicts her latest urban excursions though the medium of painting. Affirming her love for Philadelphia, her imagery reflects her affinity for city life and all the regard it garners.
JUNE 5 - 27
JAMES LERRO
Sculpture and Paintings
James Lerro, a native Philadelphian, is an artist of international acclaim having achieved a high level of success for his collage and cubist works. Lerro's sculptures incorporate the use of metal casting, allowing the artist to work on a large, imposing scale. His work is featured in the permanent collections of some of the country's most significant corporations, as well as the private collections of high profile art patrons such as the Duke and Duchess of Windsor and Vincent Price.
JUNE 5 - 27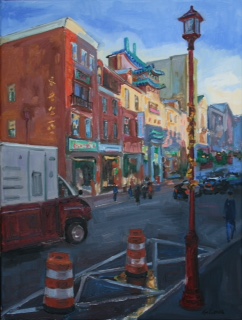 Ilya Lerner
James Lerro