Calendar
Recent Paintings
Sculpture
September 2 – 30
Reception:
Friday, September 2 from 6-9pm
---
The Unamericans: Photographs from the Republican National Convention, Cleveland, Ohio, July 18-21 2016
October 7 – 29
Reception:
Friday, October 7 from 6-9pm
---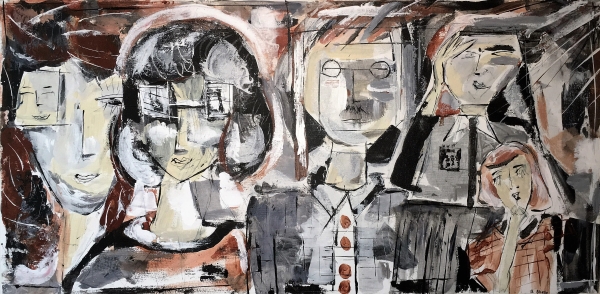 ---
"My paintings combine my passions for dance and fashion into another form of artistic expression. Paint allows me to capture color, design and movement and I enjoy making paint dance on canvas. I lived in Manhattan for almost 10 years and find that the faces I paint are the people on the streets and in the theatres of the City."

-Barbara
Barbara Shelly is a native Philadelphian and has been a student and teacher of the arts here and in New York for decades. She currently is an abstract art student of Kassem Amoudi. She has always found a way to experience her emotional side, whether through yoga, dance, paint and especially, her children and grandchildren.
Her work has been shown at a juried exhibit at the Chester County Art Center, CoCo Blue in Wayne and at the B Square Gallery in Philadelphia. She attended the Fashion Institute of Technology and has designed clothes and accessories for boutiques in New York.
She was a recipient of grants from the Pennsylvania Arts Council, Pennsylvania Humanities Council and the Bread and Roses Foundation for the production of a documentary about the Central Pennsylvania Youth Ballet. The film, "Children With A Dream" received awards from "Dance on Camera" in New York and the National Educational Film and Video Association, and it continues to reside in the PBS Film Library (having been shown frequently) and the New York Performing Arts Library.
---
Also featured this September is architect and artist Joseph Pro.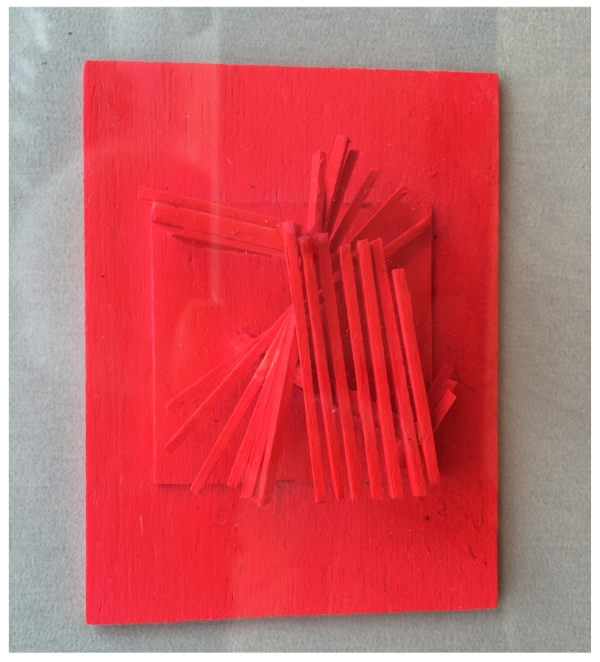 ---
Joseph Pro completed his BA at Temple University in 1983 and later studied sculpture under Leon Sitarchuk at Cheltenham Arts. He is a registered Architect who currently has his own architectural practice. Also an author, he has written a children's book, "The Adventures of Miki the Narwhal" to raise awareness of a little known marine mammal species.
He works in many disciplines and varied media. His sculptures range from large scale outdoor installations in steel to wood wall pieces, while his paintings are on canvas and board.
His start as an artist has led him into architecture as a continuation of his interest in spacial relationships. He approaches his art and architecture with a sense of environmental responsibility. His works have been shown in Philadelphia, Princeton, Boston, Rome, and also published in the New York Times and Philadelphia Inquirer. Born in Philadelphia, he now lives in New Jersey.
---
Coming in October, Photographer Bruce Checefsky
---
I published a book of photographs taken at the Republican National Convention in Cleveland from July 18-22, 2016. The book titled THE UNAMERICANS is a critical observation of the distinctive GOP at an astonishing time in our political history. My photographs were taken outside the Quicken Loans convention arena, near restaurants and bars, as a way to record the social character of the political event. I was interested in documenting the RNC as a way of understanding who these people are and why they support their candidate. The front cover of my book is a photograph of an African American male looking out the window taken from the interior of a city bus and quotes Swiss photographer Robert Frank's front cover of the seminal photo essay The Americans (1958), of a city bus with people framed by the windows and photographed from the sidewalk. I've taken this interior position -- from the inside looking out -- throughout the project.
My concept for the series of photographs titled THE UNAMERICANS was to document the street culture surrounding the Republican National Convention using my IPhone 5 as the primary camera, to better understand the nature of political events surrounding the upcoming election in November 2016. I was primarily interested in the RNC as a flashpoint for recording the massive presence of law enforcement and international news media, with the idea that both forces present the special event in ways that are different than the person on the street. I mainly photographed along the East 4th Street corridor, walkways and streets leading to the convention site at Quicken Loans Arena and near the newly designed $50 million Public Square renovation. I photographed political protestors, RNC convention delegates, news media personalities, security forces including local and out of state police, and visitors to the city. My intention with THE UNAMERICANS is to present this suite of photographs as an act of social discourse of a very American experience presented in book form and eventually in exhibitions as a shared experience of these extraordinary times. I return to my roots as a documentary street photographer with this project.

-Bruce
---